Shannon and Sheldon Bream, Delise and Juan Williams & Amy and Bret Baier.
GEORGETOWN --
When
Juan Williams
was let go by
National Public Radio
last October over a series of commentaries he made as a senior news analyst for Fox News' "O'Reilly Factor" program, it was a career-defining moment for the well respected author and journalist.
Williams discusses his firing on the October 21, 2011 episode of "O'Reilly".
Close to a year later, Williams now holds a roughly $2 million, multiyear contract working for Fox News (a significant pay
increase
) and is eager to tell his story. The veteran author's seventh book, titled
Muzzled: The Assault on Honest Debate
, is his opportunity to set the record straight and is scheduled to be released on July 26th.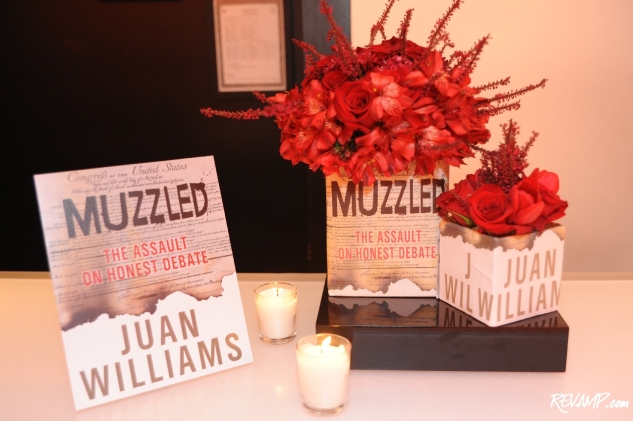 And on Tuesday evening, Fox News anchor
Bret Baier
and his wife,
Amy Baier
, hosted an intimate launch party for Williams at Georgetown's luxe
L2 Lounge
, to celebrate the book's release next week. Close to 200 friends, colleagues, and family members, including co-hosts
Ed Rogers
,
Shannon and Sheldon Bream
, and
Hugo Gurdon
, flowed through the glass doors of the Cady's Alley hotspot to congratulate Williams.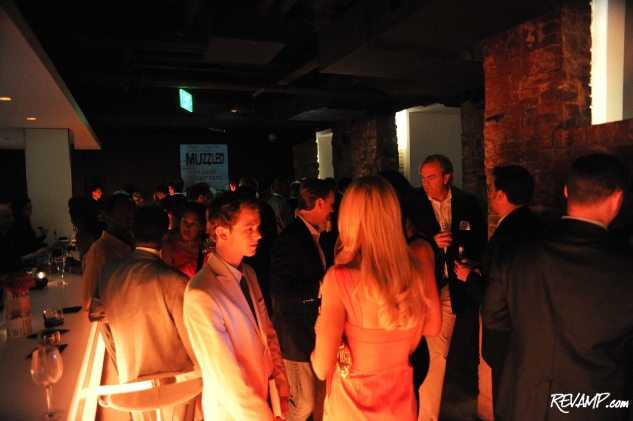 L2 Lounge Membership Director
Leah Dyrud
presided over an army of fashionably dressed waitstaff, as they liberally circulated a variety of the venue's signature savory and sweet dishes, including Blue Corn Nachos with Fire Roasted Sweet Corn and Chilies, Sesame Citrus Glazed Chicken Lollipops, Croques Monsieurs, and Chocolate Beignets (a particular favorite of the guest of honor).
'The Weekly Standard' columnist Steve Hayes congratulates Williams.
Speaking to guests about Williams' firing, Bret Baier remarked: "I was around him that week… This was a tough week to go through and there was a lot of pain involved. But I saw the character of Juan Williams exhibited throughout that entire thing and I'll tell you Juan, I couldn't be prouder of the way you handled it. It really was amazing."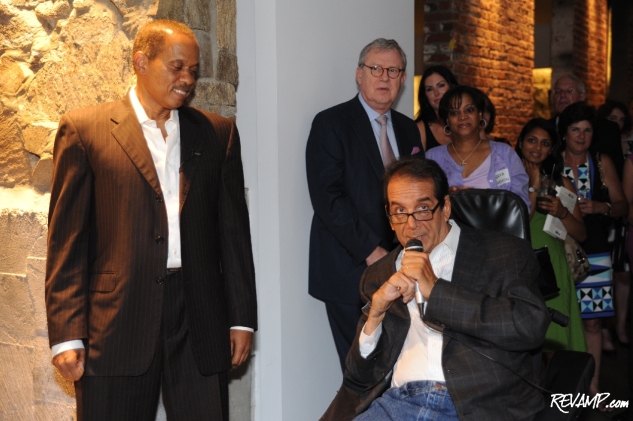 Pulitzer Prize-winning columnist Dr. Charles Krauthammer.
"I have deeply admired [Juan] above all for his courage," added fellow Fox News commentator (and Pulitzer Prize-winning columnist)
Charles Krauthammer
. "He has written and said and stood for things that are not popular in many of the circles in which he lives and works and he's done it with amazing courage and lack of fear."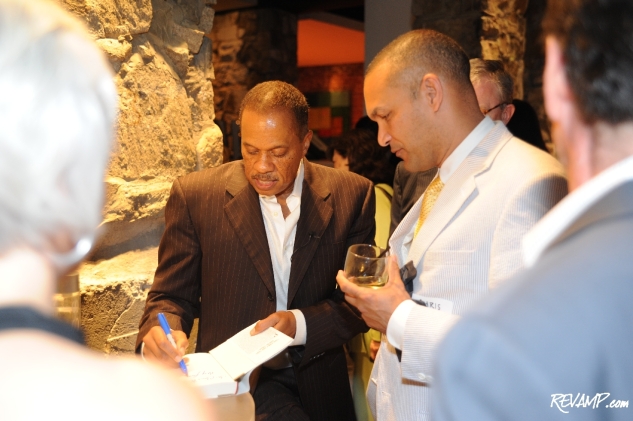 Using his self-described "very public firing" from NPR as a narrative vehicle through which he talks about the many ways in which he perceives honest debate in America being stifled under the guise of political correctness, Williams attempts to show readers through
Muzzled
just how important the frank discussion of controversial issues is to good governance and the preservation of Americans' right to free speech.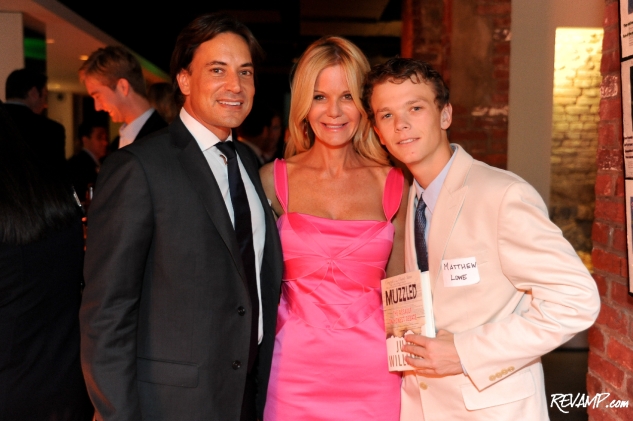 Patton Boggs Partner David Tafuri, writer Susanna Quinn & Matt Lowe (son of actor Rob Lowe).
With his wife, Delise, smiling supportively in the background, Williams was succinct in thanking everyone for coming: "There was a moment back then when I thought my career was over... And today…you're really here for a celebration… I've got my head back above the waves; I'm standing."
"And you can't get to that point without people who care about you, people who love you, and people who'll take you aside and tell you when you're wrong and how to deal with the situation and give you some counseling. And so many of you in the room tonight are those people… Tonight, I just want to tell you this is a celebration for me… A celebration of love... You guys are the best…who have stood by me through the storm. You have been a light by my side, thank god."
Juan Williams: Muzzled no more!