Citronelle's award-winning kitchen team on Thanksgiving afternoon.
WASHINGTON, D.C. --
For those D.C. residents who were not inclined to baste a bird for hours on end, temporarily 'orphaned' for Thanksgiving due to work or circumstance, or who simply were looking to relax before the start of the chaotic December holiday season, a handful of the city's best restaurants stood ready yesterday to nevertheless treat them to a delicious dinner, free from the drudgery of preparation and cleanup.
Michel Richard Citronelle



Arguably the top French restaurant in the District,
Michel Richard Citronelle
had all hands on deck at 2pm, for a lavish holiday buffet spread that overflowed past the restaurant's prized chef's tasting banquet into the open kitchen area itself.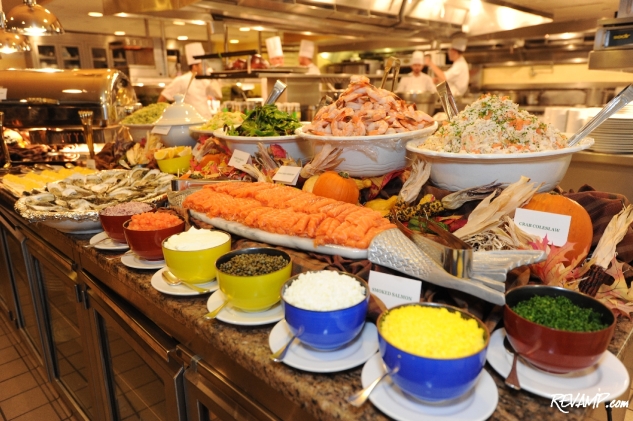 Citronelle's raw bar.
Executive Chef David Deshaies
and
Pastry Chef Ana MacDougal
rolled-out all the stops for the holiday, adding signature touches to traditional Thanksgiving menu items, with plenty of gourmet dishes mixed-in for those looking to indulge.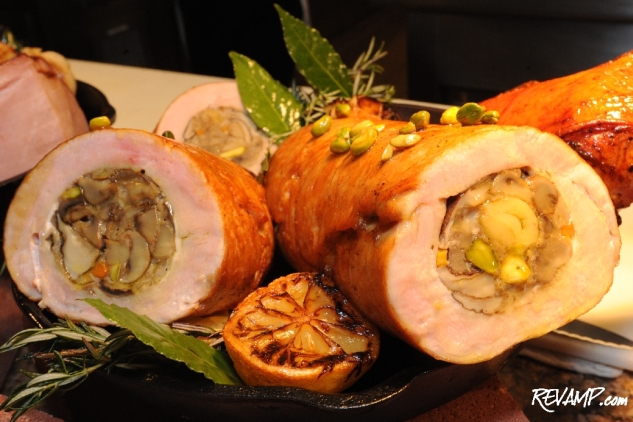 Roasted turkey.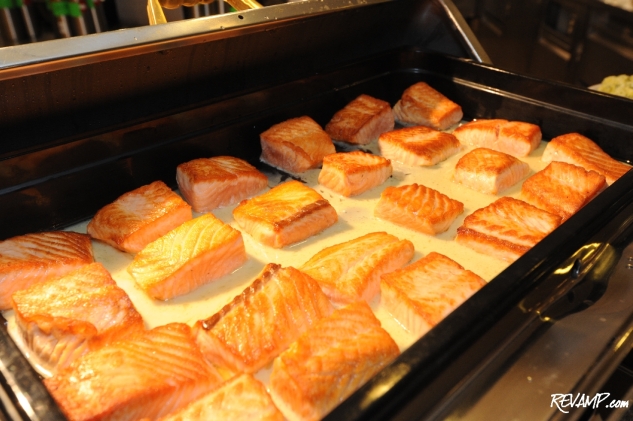 Salmon with celery sauce.
A well-stock raw bar, piled high with oysters, smoked salmon, shrimp, and crab coleslaw, sat next to platters of moist roasted turkey, baked ham with peppercorn sauce, salmon with celery sauce, cod with saffron sauce, and rack of lamb.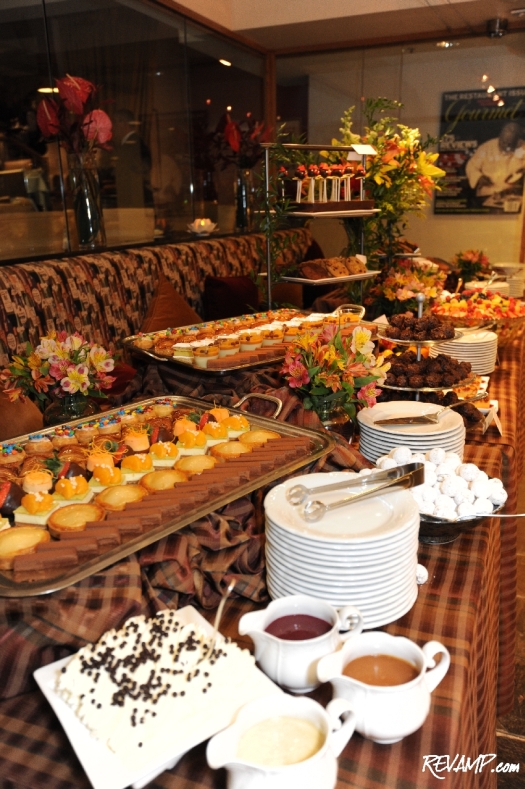 Citronelle's dessert table.
The dessert buffet was equally expansive, with traditional French small pastries mixed-in among a handful of more lighthearted choices, such as clown-shaped raspberry chocolate lollipops.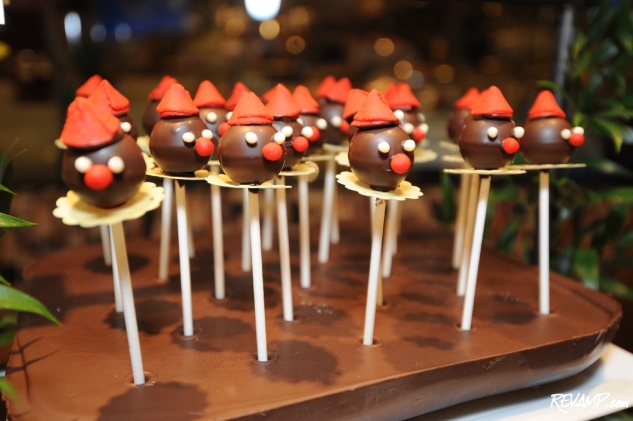 Send in the clowns…
C'était vraiment incroyable!
Sou'Wester at the Mandarin Oriental



Much like it was
last year
,
Executive Chef Eric Ziebold
's
Sou'Wester
restaurant at the
Mandarin Oriental
hotel was bustling by 3pm, with cheerful guests clamoring for a Thanksgiving dinner that benefited from the eatery's signature Southern tilt.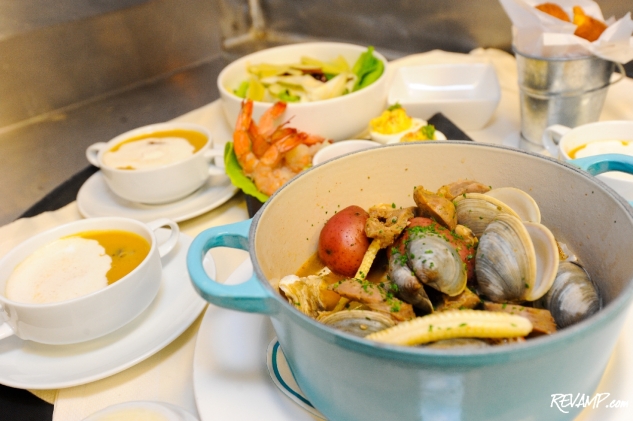 Sou'Wester's family style first course.
And
Chef de Cuisine Eddie Moran
more than rose to the occasion, with a special three-course menu served 'family style', to each table.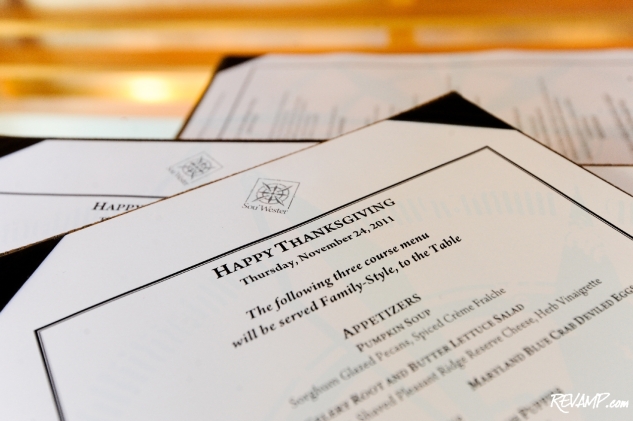 Holiday diners began their meal with spoons full of pumpkin soup and Frogmore Stew (chock full of regionally-sourced clams, oysters, and shrimp, as well as housemade sausage), before diving into plates of deviled eggs, shrimp cocktail, and celery root and butter lettuce salad. Of course, each table also enjoyed plenty of Sou'Wester's signature hush puppies with honey butter.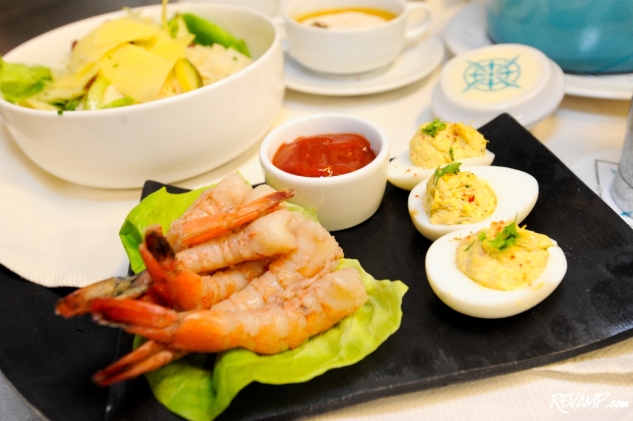 Shrimp cocktail and deviled eggs.
The dinner's entrées continued the menu momentum, with sesame seed-crusted Berkshire pork loin with bourbon-glazed apples only possibly overshadowed by the pasture-raised turkey platter, that itself was prepared in three different ways (brined and roasted breast meat, roulade of confit thighs, and fried drum sticks with giblets gravy).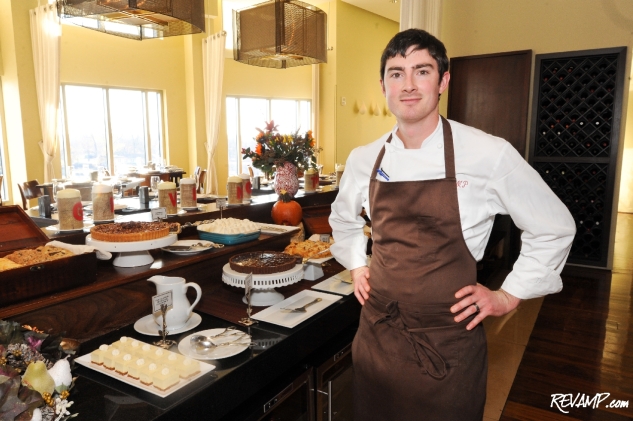 Sou'Wester and CityZen Executive Pastry Chef Matthew Petersen.
Fresh from his 'fan favorite' win during the second season of Bravo's 'Top Chef Just Desserts',
Executive Pastry Chef Matthew Petersen
(who presides over the pastries and desserts at both Sou'Wester and Ziebold's flagship
CityZen
restaurant) was prepared to win over Washingtonians with a sweet tooth as well yesterday, with an end-of-meal dessert buffet that left nothing to the imagination.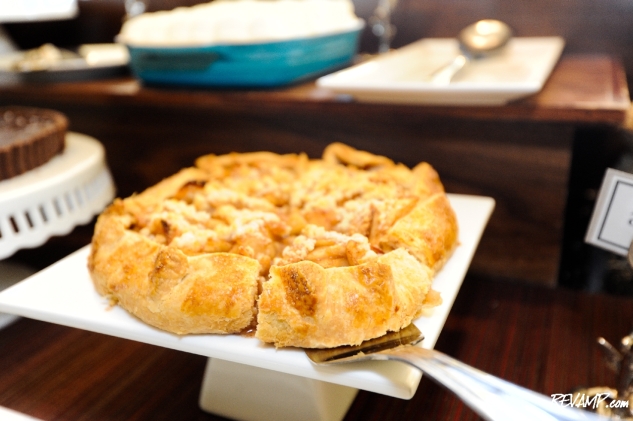 Apple pie crostada.
Traditional Thanksgiving treats, such as apple pie (well, apple pie 'crostada' technically) and bourbon pecan pie, sat side-by-side with rows of slightly more gourmet treats, like pumpkin cream pie with gingersnap crust, vanilla-lemon cheesecake with passion fruit syrup, and slices of creamy chocolate ganache tart.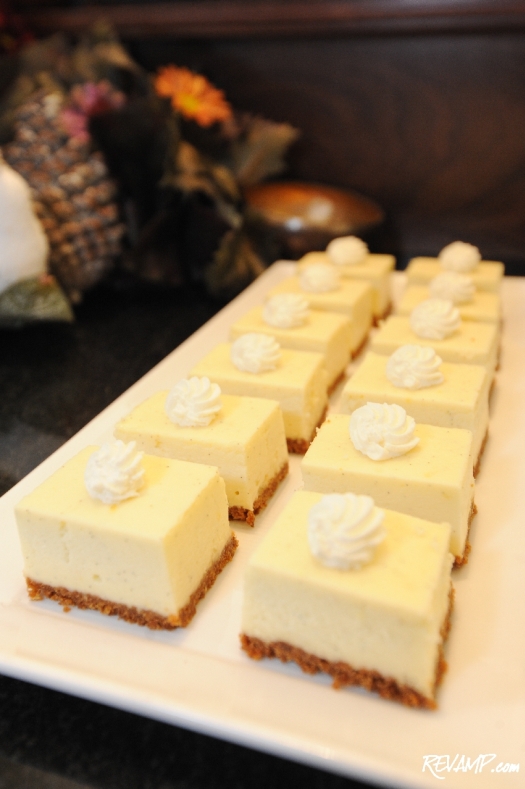 Vanilla-lemon cheesecake.
A better example of Southern hospitality on Thanksgiving would be hard to find!