Vida Fitness' James Kameen and Room & Board's Scott Jussila flank the night's raffle winners.
U STREET --
Fat Tuesday. The holiday's name speaks for itself. Essentially, Mardi Gras is one last night to indulge in rich and fatty foods for some, before the ritual fasting brought on by the observation of Lent. The excesses of the day therefore happen to pose a particularly tricky problem for those in the health & fitness industry, who strive to consistently promote a balanced lifestyle.
Fortunately for U Street hipsters (and us), the healthy and stylish teams at
Vida Fitness
and
Room & Board
came up with a solution yesterday evening, in the form of a special "Not So Fat Tuesday Fete".
The guest list-only affair invited attendees, including members of the gym's four area locations (whose sales offices are decorated with Room & Board designer pieces), to relax on the furnishing retailer's modern fourth floor, while taking in panoramic views of the city.
Guests took advantage of Room & Board's many plush seating areas to spread out and talk.
After climbing three flights of stairs (an elevator was also made available), guests earned the right to splurge a little on a variety of New Orleans-themed cocktails, healthy hors d'oeuvres (e.g., almonds, fruit, etc.), and not-so-healthy slices of "King Cake", while grooving to a lively soundtrack doled-out by
Tom From Prague
.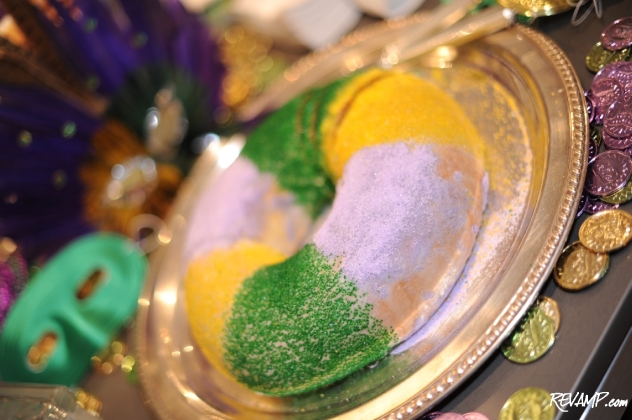 A colorful "King Cake" before guests dug into it.
At the end of the party, Vida Fitness Regional Director of Sales and Marketing
James Kameen
and Room & Board Customer Experience and Brand Manager
Scott Jussila
held a raffle, where two lucky Mardi Gras "Kings" each walked away with a $250 gift card to the home furnishings retailer.
Fat Tuesday. Fit Tuesday. Fun Tuesday.