Sound Bites Mixology Madness Competition Judges Todd Thrasher and Spike Mendelsohn (Photo: Joy Asico / REVAMP.com).
An all around groovy vibe was ever present at the
3rd Annual Sound Bites
food and music festival, held right outside of the
9:30 Club
on Sunday evening, with patrons able to grab tons of bite-sized culinary creations from some of D.C.'s top restaurants. And what better way to help
DC Central Kitchen
than by eating delicious food and listening to awesome music, right?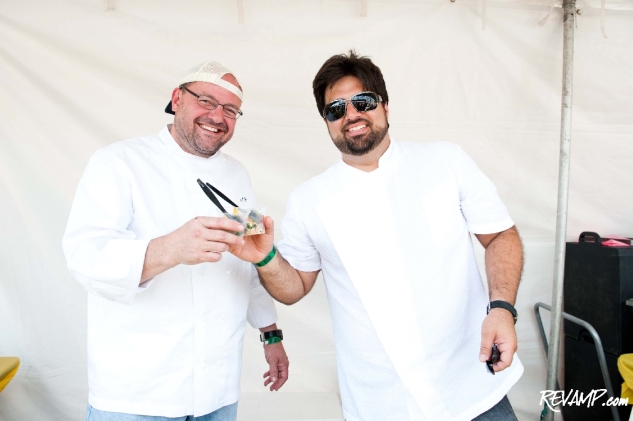 Photo: Joy Asico / REVAMP.com.
Finger food sandwiches took the spotlight, with mini Butifarra Burgers from
Chef Jose Andres
'
Pepe
food truck, hanger steak sliders with aoli sauce on focaccia from
Cork Wine Bar
, and hoagies from
Taylor Gourmet
all popular choices. The crab roll presented by
Matchbox
was a perfect appetizer and the spicy
Mie N Yu
BBQ duck sliders were simply to die for.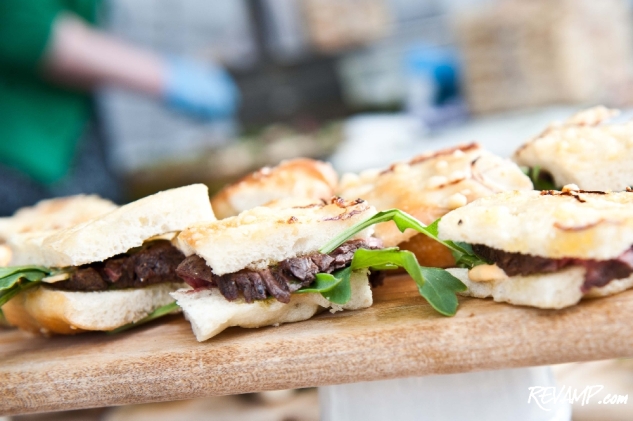 Photo: Joy Asico / REVAMP.com.
In the mood for a different flavor?
Gordy's Pickle Jar
had the solution with their sweet Thai basil jalapenos and hot chili spears.
Pearl Dive Oyster Palace
provided a different flavor with its squid plate of ceviche. And
Indique Heights
satiated appetites with a flavorful and slightly spicy chicken tikka manganite, with paluo rice. Not to mention the Korean kimchi and pork tacos by
Mandu
and cups of ice cream from
Shake Shack
, to name but a few of the foodie fixings that the Festival had to offer!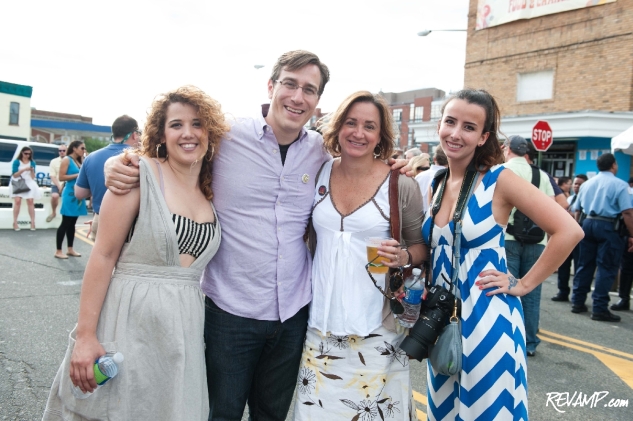 Photo: Joy Asico / REVAMP.com.
Photo: Joy Asico / REVAMP.com.
Along with the wonderful smells that emanated from the food, came an equally tasty menu of sounds. Musical acts such as
Bone, Fur and Feathers
,
The Archives
,
Nappy Riddem
, and
Thievery Corporation
graced the 9:30 Club stage and performed to an audience both eager to hear new music as well as escape the sweltering heat outside.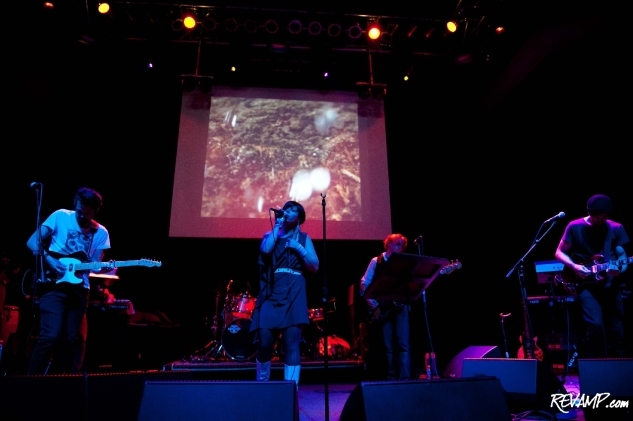 Photo: Joy Asico / REVAMP.com.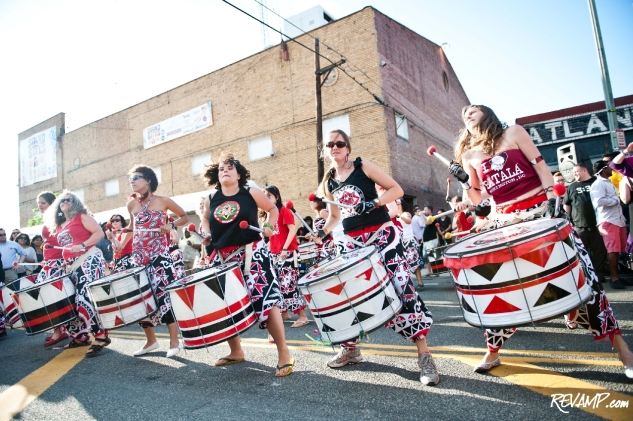 Photo: Joy Asico / REVAMP.com.
For those willing to brave the warmer weather, the all-women percussion group
Batala
performed outside to a lively group of people wanting to join in on the energetic celebration of Afro-Brazilian rhythms. The performance also had the good timing of serving as the start of the first ever Mixology Madness Competition at Sound Bites!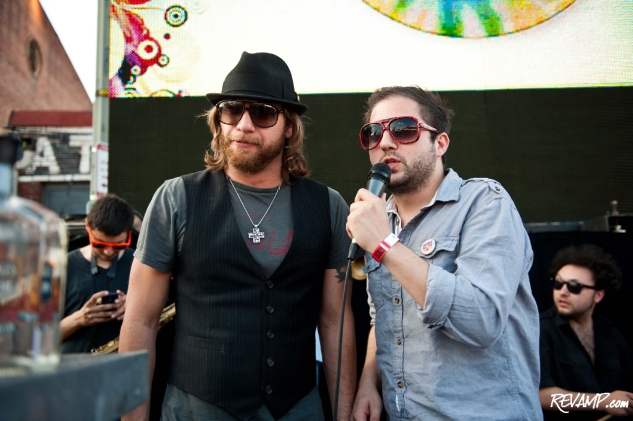 Photo: Joy Asico / REVAMP.com.
Hosted by
Samy K
from HOT 99.5, the competition featured teams from many of D.C.'s most popular bars: The Gibson, Oyamel, Fujimar, and The Passenger. The lively cocktail competition was judged by a panel of worthy guests that clearly knew their liquors, including
Svetlana Legetic
(Brightest Young Things),
Spike Mendelsohn
(Good Stuff Eatery),
Gina Chersevani
(Master Mixologist), and
Todd Thrasher
(Master Mixologist).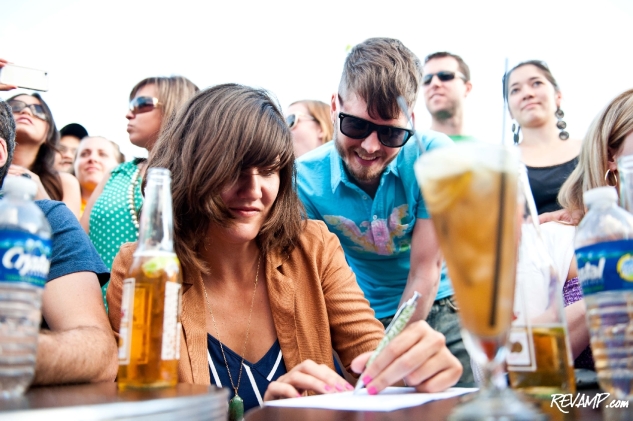 Photo: Joy Asico / REVAMP.com.
The teams went head-to-head during each round in creating cocktails in under 5 minutes. If that wasn't hard enough, a different featured ingredient was also required to be used for each challenge! For the the first round, it was lychee, the sweet exotic fruit. Second round, it was cucumber. And for the last and most important round, it was … apple vinegar!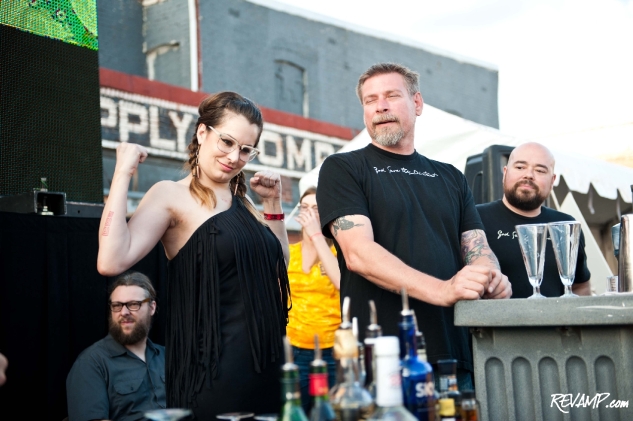 Photo: Joy Asico / REVAMP.com.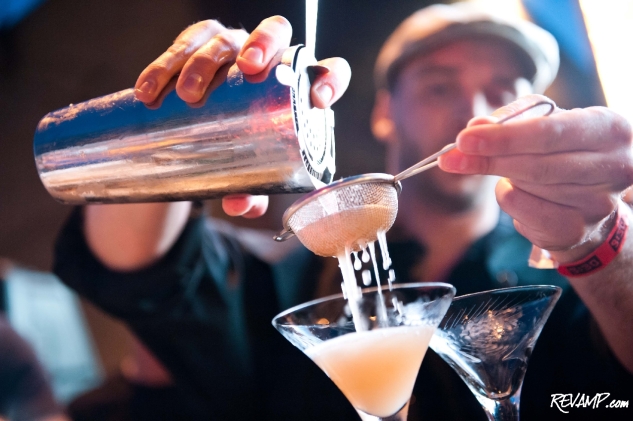 Photo: Joy Asico / REVAMP.com.
With only 6 points separating first and second place teams, it was the team from The Gibson who eventually took home the glory, thanks to its ingenuity, creative thinking, and presentation.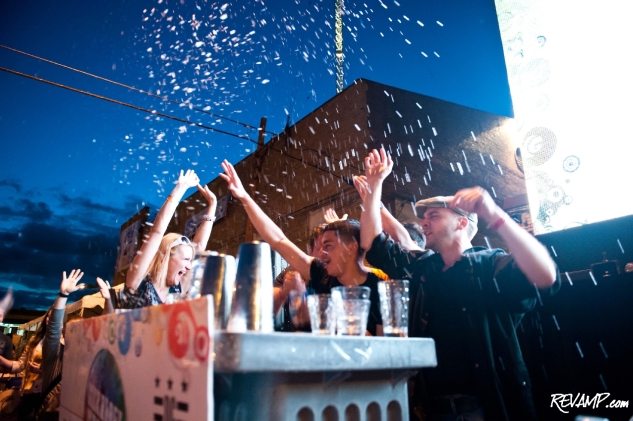 Photo: Joy Asico / REVAMP.com.
Sound might bite at times, but in name only at this event!